Reginald Veal brings new Porgy en Bess bass in use.
Hans Koert

On Sunday the 4th of October, 2009 Hans Zuiderbaan, chairman of the Porgy en Bess Jazz club in Terneuzen ( in the south west part of The Netherlands) received a cheque from mayor Jan Lonink to bear the cost of a "new", more then 100 years old double bass. A good excuse to invite a group featuring US bass player Reginald Veal, to bring this instrument in use and to open the new jazz season of this leading jazz club in the south-west part of The Netherlands.
Reginald Veal plays the "new" Porgy en Bess double bass ( photo courtesy: Hans Koert)
The Joris Roelofs Quartet, featuring Joris Roelofs as leader, on clarinet and alto saxophone, Aaron Goldberg at the piano, Reginald Veal on bass and Gregory Hutchinson on drums, was invited to do so. This young Dutch reed player, Joris Roelofs, born 25 years ago in Aix-en-Provence ( France) is one of the rising reed players in contemporary jazz. He studied at the Amsterdam School of Music and played in numerous groups like the Vienna Art Orchestra and the Jazz Orchestra of the Concertgebouw, which is, in his opinion, the best Jazz big band of The Netherlands.
Joris Roelofs ( photo courtesy: Hans Koert)
In two sets Joris Roelofs and his group brought some own compositions, like Off Line ( Ik heb dit nog nooit eerder gespeeld (= I've never played it before), he reported) and Beter and compositions by Aaron Goldberg ( The Rules), Warne Marsh's Background Music and Francisca, composed by Toninho Horta, the Brazilian guitar player. This Brazilian music inspires him: We doen het op onze eigen manier, want hoe je ook probert de Braziliaanse groove te imiteren, het zal nooit "echt" klinken ( = We do it in our one way, because it is very hard to imitate this Brazilian groove – it will never sound "real".) he said in an interview with Ira Kuntz last year, referring to the Brazilian repertoire with his trio ( featuring the Dutch musicians Jesse Van Ruller and Clemens Van Der Feen.). Most of the year Joris lives and works in New York City where he plays with his Joris Roelofs group in clubs like Small's, mostly featuring piano player Aaron Goldberg.
Aaron Goldberg ( photo courtesy: Hans Koert)
Aaron Goldberg, responsible for several compositions during the concert, has played with great names like Wynton Marsalis and Joshua Redman. He plays the piano in Joris Roelofs first album, titled Introducing Joris Roelofs.
Gregory Hutchinson ( photo courtesy: Hans Koert)

Percussionist Gregory Hutchinson, born in Brooklyn, 1970 is one of those sought after accompanist that is to be heard on hundreds of recordings with great names like Oscar Peterson, Betty Carter, Christian McBride, Joe Henderson ( the Lush Life album), Ray Brown (Life at Sculler), Joshua Redman and Roy Hargrove ( The Vibe and Tenors of Our Times). With Roy he played in Porgy en Bess some years ago, but I missed that concert. He is fascinated by Art Blakey, who was, of course, an excellent drummer, that became famous thanks to his Jazz Messengers, which gave young artists a chance to develop in music. I like to fashion myself behind Blakey. Blakey led his bands. So that's the way I try to play; not in his style, but more so in the way that he directed. ( Interview May, 1997). It was a pity that Joris couldn't lead him into a drum solo - the audience had to it with only a small one, together with bass player Reginald Veal in the last tune.
Joris Roelofs ( photo courtesy: Hans Koert)
During the entire concert, of course, Reginald Veal, was in the spot light, playing the "new" Porgy en Bess bass, like in the Aaron Goldberg composition The Rules, which opened the concert. Bass players, like piano players and most drummers, don't bring their own instruments. Ron Carter told in an interview some years ago how he managed this Bass de Jour. I told about this before in a previous contribution. Thanks to the Prins Bernard Cultuurfonds Zeeland and the Lions Club Oost-Zeeuws-Vlaanderen, a lot of its members joined the concert, Porgy en Bess now has his own double bass and during this concert the audience could learn how it sounds in the hands of one of the leading bass players in contemporary jazz, Reginald Veal.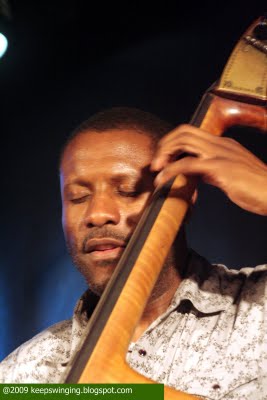 Reginald Veal ( photo courtesy: Hans Koert)
Reginald Veal was born in 1963 in New Orleans and his appearance and music reminded me to Ron Carter, but in an interview a dozen years ago he told to be inspired by Milt Hinton, which gave him some valuable information. Milt taught me how to determine if you are getting the optimum sound performance from your bass. He struck a match, he put it up to the F hole of his bass, and said if the bass's sound post was set right or simply if you had a huge sound, you could blow out the match. Of course, Milt blew it out every time. (Interview March 1997). It was a pity that the sound equipment gave some problems during the first set ( chairman and speaker Hans Zuiderbaan tried to make things better by labeling the first set as an unique acoustical experiment), but never the less, Reginald Veal showed that he is a great bass player. Let's hope that this new bass will leave the door open for other great US bass players like Christian McBride and .... Ron Carter. I'll be on the first row.
Gregory Hutchinson ( photo courtesy: Hans Koert)

This concert in Porgy en Bess was one of a dozen concerts by this quartet in a small European tour along Germany, Austria, France, The Netherlands and after this Porgy en Bess concert, a few concerts in some East European countries like the Czech Republic, Slovakia and Hungaria - a tour without any spare days - maybe that was the reason that the musicians seemed to be a bit washed out. But, in spite of that, this concert was a great opener for the new Porgy en Bess concert season with some great names like the Claudio Roditi-Klaus Ignatzek-Jean-Louis Rassinfosse Trio and a concert by Charles McPherson with the Rein De Graaff Trio during the next weeks. Visit its website for the last information.